Who We Are
UAS Europe is located in Linköping, the aviation capital of Sweden. The company is considered as one of the leading developers of small unmanned aircraft systems and subcomponents in Europe. For more than five years we have supplied small unmanned aircraft systems to organizations all over world such as USA, Germany, Spain, United Arab Emirates, Uruguay, Lithuania, Bulgaria etc.

Our field proven NATO STANAG 4586 compliant SkyView GCS ground control station software for unmanned systems has been used by more than 30 organizations all over the world. We try to constantly improve our products for safety, capability and most important usability. Our qualified support team make sure our customers get the best available support and that they are treated with respect.

Our vision is to provide quality products and services that exceeds the expectations of our customers
Company Information and Contact Details
Business Name: UAS Europe AB
Business Address: Torvingegatan 13, 58278 Linköping
Country: Sweden
Phone: +46 (0)13 560 22 40
E-mail:
Website:
http://www.uas-europe.com
Owner: Instrument Control Sweden AB (100%)
Primary Line of Business: Unmanned Aircraft Systems and Subcomponents
Easy To Use
User friendly solutions
Customizable
Customer specific solutions
Robust Solutions
Made for everyday use
NATO STANAG-4586
For easy integration
Core Customers
We work closely with our core customers and always strive to improve our products to meet end-customer requirements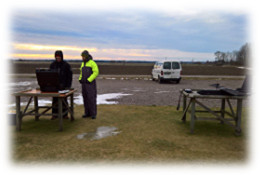 A typical flight test day at UAS Europe. -5 degrees Celsius and nice calm weather out at the Flight Test field. This time we tested our new...